Partner Program

Grow your MSP business

with superior solutions, expertise, and support.

The Field Effect Partner Momentum Program makes it easy to provide your clients with the industry's best cyber security while reducing their costs and increasing your profits.
The Field Effect Partner Momentum Program

Simplify security, reduce costs, and

increase profits.

When you partner with Field Effect, you get the most sophisticated and innovative threat protection around, an entire team of the world's best security analysts at your fingertips, and all the tools and training you need to sell, market, and deliver cyber security.
Learn
Accelerate time to value with easy onboarding and resources to help you hit the ground running.
Grow
Offer a differentiated service that reduces risk, maximizes profits, and increases revenue.
Benefits of partnering with Field Effect

Get everything you need to

deliver a differentiated security service quickly and easily from the start.
Simplicity
Deliver complete protection across the entire IT environment – all from one portal.
Get visibility into your clients' security posture quickly with a plug-and-play solution.
Improve speed to market with a complete service that can be deployed in minutes.
Eliminate complex integrations with an end-to-end managed security service.
Profitability
Increase your managed service margins while reducing your customers costs.
Take advantage of product discounts from your initial sale.
Develop new business opportunities with a differentiated service.
Protect your pre-sales investments with deal registration.
Accessibility
Get access to exceptional cyber security and deep security expertise.
Access an entire team of security experts – day or night.
Get visibility into our product roadmap and influence its direction.
Choose packages that fit your clients' needs and budget while still delivering the highest level of protection.
Get started today
Become a Field Effect partner and strengthen your customers' trust and security.
Partner Testimonials

Trusted by partners around the world.
"We work with vendors that put the customer first. This is why we're delighted to partner with Field Effect, whose Covalence solution hits our perfect sweet-spot… easy to use, human centric and powerfully effective without being prohibitively expensive."
Rich Smith
Managing Director, RS22
"In partnering with Field Effect, we are able to offer our customers a holistic security solution that not only provides comprehensive protection, but helps alleviate the budgetary and skill challenges that many face when it comes to cyber security."
Daniel Rondy
Executive Vice-President, PG Solutions
"Once we saw the depth of Field Effect's Covalence solution and the company's unique process of alerting and reporting, we knew this was the company we wanted to partner with."
Ernie Sherman
President, Fuelled Networks
Get Started

Join the program today!

Fill out the form below or contact us at [email protected] to get more information about the program.
Resources

Articles and tools to help you

build your security practice.
Case Study: Fuelled Networks Partnership
Managed IT and security services provider gains 24/7 visibility on customer networks and increases adoption of cyber security monitoring by 80% over previous year with Covalence MDR and the Field Effect Partner Momentum Program.
White Paper: How MSPs can take their managed security to the next level
This white paper, drawing on end-user research, will reveal the scope of the security challenges facing small and medium businesses (as well as a few larger ones) and analyse how MSPs can improve the role they play in helping these organizations.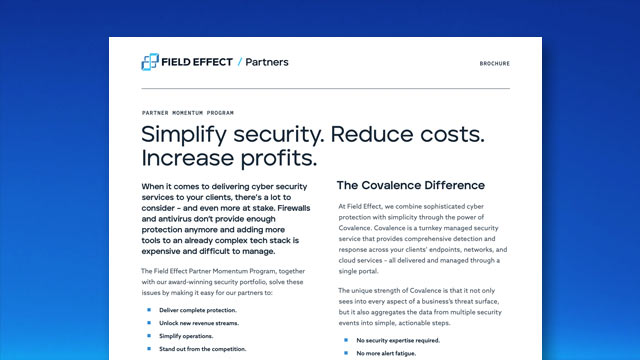 Brochure: Partner Momentum Program
Simplify security, reduce costs, and increase profits. See how the Field Effect Partner Momentum Program delivers the best cyber security service to your clients while also delivering the best cyber security partnership experience to MSPs like you.
Case Study: WW Works Partnership
See why this IT and managed services company switched to Covalence over a brand-name EDR solution, increasing customer engagement and retention with their managed security service.
White Paper: No SIEM, No Problem: Why more technology & automation is not always the answer
This white paper analyzes how SMBs and small enterprises can overcome their alert fatigue, resourcing challenges, and security infrastructure sprawl without blowing their budget on SIEM and bleeding-edge automation.
Webinar: How Successful MSPs Address Their Customers' Shifting Security Requirements
The threat landscape is changing rapidly and so are your customers' security expectations. Join us as we examine the increasingly complex cyber security landscape and the customer expectations that are emerging as a result.
For small and medium-sized businesses (SMBs), managed cyber security delivers a much-needed helping hand. With cyber threats evolving at a rapid pace, it's a challenge for businesses of all sizes, let alone SMBs, to stay ahead of attackers. Because SMB owners and...
The current landscape of managed security offerings gives managed service providers (MSPs) like yours a tremendous opportunity—but the same is true for your competitors. You know you need to start offering security to your customers, but with all the choices and...
The cyber security vendor market space has grown significantly. As an MSP, you're likely inundated with calls about the latest technologies. There's a nearly limitless menu of options to secure your clients' environments—how do you know which tools to choose?  ...